As of October 2nd, 2023
---
63rd Annual Meeting
***The deadline to register has been extended until 4:00pm on Tuesday, October 3rd.  Members must register at the link above in order to be eligible to win a door prize.***
What: 63rd Annual Meeting
When: Wednesday, October 4, 2023, 5:00 PM until 6:00 PM
Where: Lion Hills Center, 2331 Military Road, Columbus, MS  39705
There are two BOD positions to be filled this year, each for 3-year terms.
The committee has filed the following nominees for the office of Board of Directors for a 3-year term beginning October 4, 2023:
Sam Shoemake (incumbent)

Debbie Ragon (incumbent)
There will be no nominations from the floor. A sufficient number of nominations were made by the nominating committee or by petition to provide at least as many nominees as there are positions to be filled.
---
Holiday Closure
We will be closed on Monday, October 9th, in observance of Columbus Day.
---
Share Certificate Updates
Check out the new
rates
and
features
on our share certificates, available for a limited time. 
Call or visit
any location for details.  


---
WEST POINT BRANCH - OPEN HOUSE & RIBBON CUTTING
We will host an open house at the newly renovated West Point branch on Thursday, October 12th, from 8:30am until 4:00pm.  A ribbon cutting ceremony will take place at 11:00am.  We would love to see you there!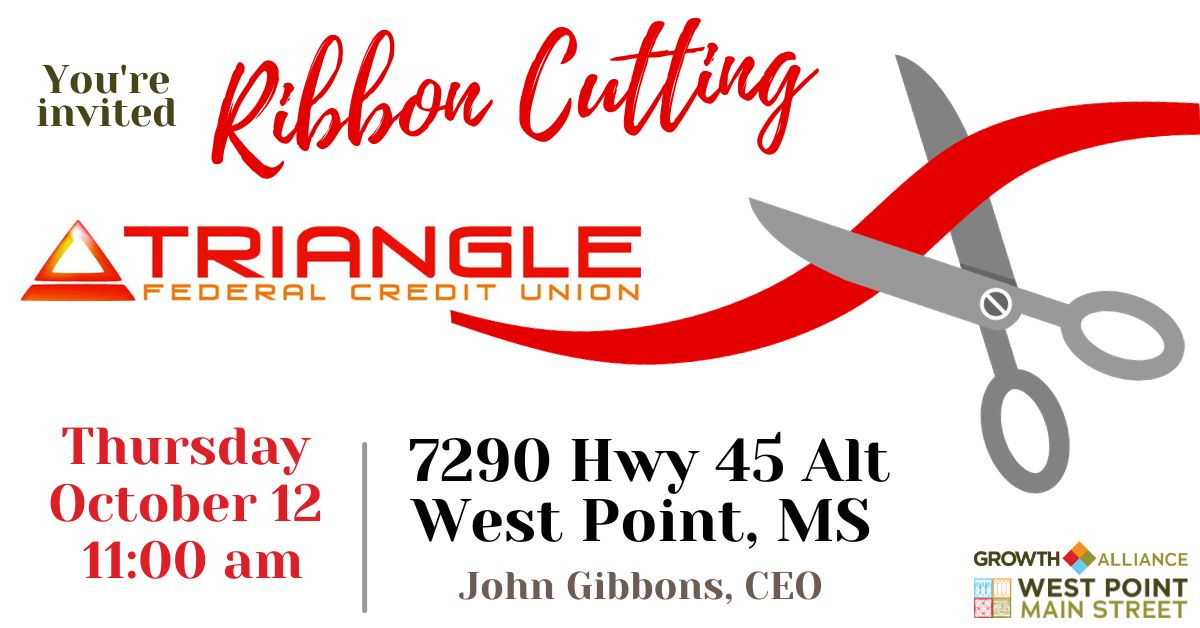 At TFCU, we are always looking for ways to meet the needs of our members.  In an effort to do just that, we have added a new storm shelter loan. 
If you own your home and would like to install a storm shelter on your property, call or visit any TFCU location to find out how we may be able to help you.
---
Have you tried our new and improved Bill Pay?
In addition to sending payments to businesses, you can now send funds to another person via direct deposit, text, email or check using the Bill Pay option found in online and mobile banking.  You can also use this tool to transfer money to your own account at another financial institution.  Move your money quickly and conveniently, using your preferred method.  If you need help with Bill Pay while you're logged in, simply use the Start a Conversation feature on the dashboard to chat with a TFCU member service representative.  It's like having your own personal TFCU branch, right at your finger tips!    
First Time Auto Loan

Do you need a car, truck or SUV, but you lack the credit history, employment history or co-borrower often required to finance the purchase of your first auto?  Call 
662-434-6052
, visit any 
LOCATION
 or apply 
ONLINE 
to find out if our 
First Time Auto Loan*
is the solution for you.
*This is not an offer for extension of credit or a commitment to lend. Terms and conditions apply.
---
SECURITY ALERT!

Please be aware that TFCU will not call you to request personal information.  If you receive a call from someone claiming to be a TFCU employee, do not provide personal information including your social security number, date of birth, debit card number, CVV number, etc.  Even if caller ID displays a TFCU number, do not provide the caller with any personal information.  Technology has made it possible for criminals to "spoof" any phone number, making it look as though you are receiving a phone call from a known person or business.  Remember, TFCU will not call you to request personal information.  If you receive a call that seems suspicious, end that call immediately and contact us directly at 662-434-6052 or visit any location to tell us about the call you received.
When speaking to you by phone, we may ask a series of security questions that are intended to confirm the identity of the person with whom we are speaking.  Just as a criminal might impersonate a TFCU employee when they call you, they may also impersonate a TFCU member when they call us.  Protecting your personal and financial information is our top priority.  We encourage members to provide us with a secret password or passcode as an additional way to verify identity.        
If you ever have questions or concerns regarding phone calls, emails, or any other communication related to your business with TFCU, please call us at 662-434-6052 or visit your nearest branch.                    
For additional information concerning scams and fraud, visit the
AARP website
. 
---
THANK YOU to the BEST CREDIT UNION MEMBERS!

Triangle FCU was also voted
BEST Credit Union
 and 
Among the Best Mortgage Lenders
in the 2022 Reader's Choice poll conducted by
The Dispatch
!  This was TFCU's
15th
consecutive year to be voted BEST Credit Union in this poll, and this was TFCU's
2nd
time to be recognized in the Mortgage Lender category. 
Thank you to everyone who voted in each of these polls and categories!  We have the BEST members and we look forward to earning your business and your votes for many years to come! 
---
Let us help you with your mortgage*!

Visit our
mortgage website
to meet your TFCU mortgage representatives and apply online if you're ready to start the process today.  We take pride in helping our members achieve their homeownership goals.  Already a homeowner?  Let us take a look at your existing mortgage to see if we can help you achieve your financial goals with a refinance.  Selling a home?  Refer your potential buyers to us for their pre-qualification.  Whatever your mortgage need might be, we are here to help make the process as pleasant and stress-free as possible for you.  Let our mortgage team put the credit union difference to work for you!               
*This is not an offer for extension of credit or a commitment to lend.  Financing subject to credit approval.
---
Did you know?

Triangle FCU has two Certified Credit Union Financial Counselors on staff.  The following employees have completed the training and examination process necessary to achieve CCUFC designation, equipping them with the skills and knowledge to help TFCU members take control of their financial future:
Elizabeth Varvel - MSR, CAFB Branch

Maria Snell - Account Collector, CAFB Branch
If you would like to discuss your financial situation, goals, difficulties or questions with a Certified Credit Union Financial Counselor, please call 662-434-6052 and select option 8 to be transferred to the counselor of your choice.  In-person visits are also welcome.  Providing free access to Certified Credit Union Financial Counselors is just one more way that we strive to serve our members as a trusted partner in achieving financial success!              
---
"The real job of a credit union is to prove, in modest measure, the practicality of the brotherhood of man."




- Roy Bergengren, pioneer of the United States credit union movement.