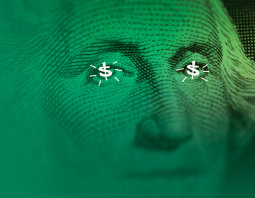 Kasasa Cash® is a free checking account that pays high dividends and refunds your ATM fees (up to $10 monthly)* every month, all for doing a few things that you probably already do.
Does your current checking account do that? We don't think so -- because Triangle is home to the best free checking account in the Golden Triangle!
Summary

2.00% APY* on balances up to $5,000
2.00% to 0.24% on balances over $5,000 depending on balance in account*
0.05% APY* if monthly qualifications are not met
Refunds on ATM fees, nationwide (up to $10 monthly)*
No minimum balance to earn rewards
No monthly service charge
Unlimited check writing
Free Mobile Money
Free e-statements
Free Visa® debit card
$50 minimum deposit to open

Please note: we may close your account or transition your account to our basic checking account if your account becomes inactive (if no transactions are made) or if any of the qualifications are not met for 2 consecutive qualification cycles (60 days). As long as you have your Kasasa Cash account you'll be able to qualify for the account's reward each month.




Getting your rewards is easy!

Qualifying is so easy that you're probably already doing it! To earn your rewards, simply do the following activities and transactions in your Kasasa Cash account each monthly qualification cycle:

Have at least 12 debit card purchases post and settle
Enroll and receive e-statement notice
Be enrolled and log into online banking

Even if you don't qualify on a given month, the account is totally free and you still earn dividends at the base rate. Plus, you can get back to earning the huge rewards the very next monthly qualification cycle.




IMPORTANT INFORMATION ABOUT PROCEDURES FOR OPENING A NEW ACCOUNT

To help the government fight the funding of terrorism and money laundering activities, Federal law requires all financial institutions to obtain, verify, and record information that identifies each person who opens an account.

What this means for you: When you open an account, we will ask for your name, address, date of birth, and other information that will allow us to identify you. We may also ask to see your driver's license or other identifying documents.
*APY=Annual Percentage Yield. APYs accurate as of 9/1/2016. Rates may change after account is opened. Minimum to open is $50. If qualifications are met each monthly qualification cycle: (1) Domestic ATM fees incurred during qualification cycle will be reimbursed and credited to account on the first day of the next monthly statement cycle; (2) balances up to $5,000 receive APY of 2.00%; and (3) balances over $5,000 earn 0.15% dividends rate on portion of balance over $5,000, resulting in 2.00% - 0.24% APY depending on the balance. If qualifications are not met, all balances earn 0.05% APY. Qualifying transactions must post to and settle account during monthly qualification cycle. Transactions may take one or more banking days from the date transaction was made to post to and settle in an account. ATM-processed transactions do not count towards qualifying debit card transactions. "Monthly Qualification Cycle" means a period beginning the first day of the current statement cycle through the close of the current statement cycle. Limit one account per SSN. ATM receipt must be presented for reimbursement of an individual ATM fee of $5.00 or higher.