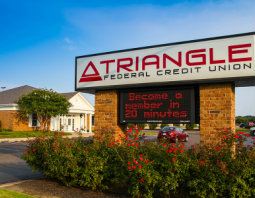 Who can join?
Persons who live, work, worship, attend school in, and businesses and other legal entities located in the underserved areas of Clay, Lowndes, and Oktibbeha Counties, Mississippi.
Select Employee Groups
The following Select Employee Groups have been approved and are sponsor companies of Triangle Federal Credit Union. Employees of all sponsor companies are eligible for membership in TFCU along with their immediate family members. If your business or employer would like to become a sponsor company, please contact John Gibbons at jgibbons@trianglefcu.com.
Air Force ROTC (Mississippi State University and University of Mississippi)

Army & Air Force Exchange Services

Army Corps of Engineers, Tennessee-Tombigbee Waterway Project

Aurora Australis Lodge Nursing Home

Axiall (Formerly Georgia Gulf)

Baldor Electric

Baptist Memorial Hospital-Golden Triangle

Care Center of Aberdeen

Caledonia Natural Gas District

Choctaw Regional Medical Center

City of Aberdeen

City of Aberdeen Housing Authority

City of Columbus Housing Authority

Columbus Air Force Base (Active and Retired Military, Civilian Contractors)

Columbus City Schools

Columbus Lock & Key, Inc.

Columbus Orthopedic Outpatient Clinic

Commercial Dispatch

Community Counseling Services

East Lowndes Water Association, Inc.

East MS Community College, Mayhew Campus

Galloway-Chandler-McKinney Insurance, Inc.

Glenn Machine Works, Inc.

Golden Triangle Association of Realtors, Inc. (Realtor and Affiliated Members)

Health-Med

Heritage Academy

Hydro Industrial Services, Inc.

J. Douglas Dalrymple, P.A. (Attorney at Law)

Lowndes County (Employees, Elected, and Appointed Officials)

Lowndes County Schools

Lowry Medical Clinic, Inc.

MS Regional Housing Authority IV

Mueller Brass Company

New Process Steel, L.P.

Non Appropriated Funds (NAF)

Palmer Home for Children

Peco Foods, Inc.

Premier Ford

Radiology Clinic

Steel Dynamics

Sewing World

Social Security Administration (Columbus District)

Southern Ionics, Inc.

Swann Kennels

Town of Caledonia (Employees and Elected Officials)

United States Bankruptcy Court (Northern District, Aberdeen, MS)

Upton Used Cars

Victory Christian Academy

Vineyard Court Nursing Home

Volume Freight

WCBI-TV

West Brothers Construction, Inc.

Weyerhaeuser Company (Columbus Pulp and Paper Complex)

Windsor Place Nursing and Rehab Center
Spouses of persons who died while within the field of membership of this credit union; employees of this credit union; persons retired as pensioners or annuitants from the above employment; volunteers; members of the immediate family or household; organizations of such persons and "corporate or other legal entities in this charter."